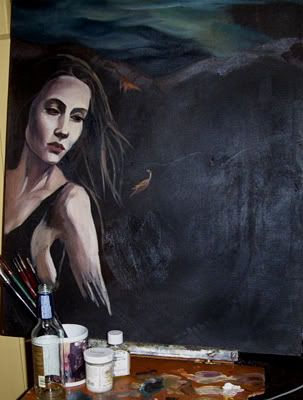 The doll is gessoed, and almost ready to be painted, I just have to sand it. It was extremely difficult to mold it in this position; I'm afraid she's suffering from extremely flat ass syndrome as I had no choice but to bake her in the sitting position. And, I found out that hand armatures - with wires for fingers and all - just won't work for the size dolls i'm making. I made the armatures as small as I possibly could, and the hands were still ridiculously large because I had to just keep adding sculpey so the wire wouldn't show through. So, she has nice little closed fists. I think I'm going to get some liquid sculpey and re-inforce the fingers on future dolls that way (I don't know if it was tattooedartgirl or tricia_joy that suggested that, but thanks.) I think this one will have brown hair; I still have to go to the beauty supply store to get some new colors but I think I'm going to paint it before I put the hair on this time.

The painting... well, I am my own harshest critic so I'm not crazy about it at this point, but, it is MY FIRST PAINTING IN OVER A YEAR. I went through a very dry period, and now suddenly I have all these ideas and just felt the urge to start painting... I work in a lot of layers and this is just the first so it will change a lot. As you can see, I start by focusing on the central figure which is typically a no-no according to art teachers, but oh well, that's the way I like to work. I have a vague idea of what it will look like, but I really like to let my work develop as I go - it's part of the fun, for me. I don't even know what it's going to turn out like until I'm finished.

So, this makes me a pretty busy girl at present, since I'm working full time, re-doing my artwork website, making dolls and painting - all the while trying to spend enough time with my boyfriend! And I need to start going back to figure drawing class... but, I'm really excited about the fact that I have a lot of creative projects in the works at the moment because I didn't do a damn thing for so long.